Delaware Humane and Delaware SPCA are now Humane Animal Partners!
Dear friends and family of Delaware Humane Association and Delaware SPCA,
I am thrilled to share with you that Delaware SPCA and Delaware Humane Association (DHA) have officially merged and unveiled our new name, Humane Animal Partners (HAP)!
This monumental occasion was marked by an official unveiling of the new name and logo at our Stanton/Christiana campus on September 7. Humane Animal Partners staff, supporting partners, and government representatives were in attendance to help celebrate the official opening chapter of HAP.
Over the past year, the organization engaged a core team to oversee the rebranding process and retained the well-known marketing firm, Aloysius, Butler, and Clark (AB&C)—one of the largest full-service agencies in the mid-Atlantic with strong roots in Delaware—to help guide the process.
We learned that the word "humane" especially resonates with our community of animal lovers as it speaks to kindness, compassion, and doing the right thing for animals and people. It also communicates no-kill, a core value of our lifesaving approach. The word "partners" holds significance because we value the importance of partnerships in order to do our work – we are only as good as we are to each other!
Our new logo shows the two types of companion animals we serve, cats and dogs, resting comfortably on the letter "H," which represents a comfortable bed, as we are more committed than ever to providing our animals a safe, comfortable place at HAP. And of course, the blue and gold colors represent Delaware; a state we are so proud to serve.
While we're happy to share this exciting news with you, there's still much work to be done. Humane Animal Partners will continue to provide vital lifesaving services for both animals and the people who love them throughout the entire state and surrounding areas. As we look towards the future, we will increase our focus on the importance of partnerships and working collaboratively with other animal welfare and community service organizations.
Our new website will launch later this month at humaneanimalpartners.org. In the meantime, please continue to visit our websites at delawarehumane.org and delspca.org, adopt, volunteer, follow our soon-to-be merged social media accounts, or consider supporting our lifesaving work with a gift.
This is a proud day for animal welfare in Delaware. Thank you for your support as we commit to making an even more positive impact on pets and people in our community.
Gratefully,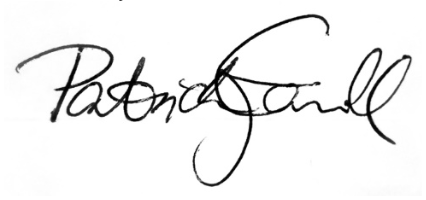 Patrick J. Carroll
CEO