Pets are family, and families belong together. Some who are struggling to care for their beloved pets may think surrendering them to a shelter is the only option available during difficult times. At HAP, we never want to see a family face that decision when there may be alternatives available.
Our Pet Retention services support struggling pet owners with resources that can help them keep their pets at home where they belong and reduce the number of animals surrendered to shelters for financial reasons.
Pet Food Pantry
HAP's Pet Food Pantry assist struggling community members by providing them with free dog/cat food. We also offer occasional drive-through pet food pantry events in the community.
If you need free pet food, visit HAP Wilmington, Stanton/Christiana, or Rehoboth Beach during regular business hours
For more information on our Pet Food Pantry please email our Director of Community Strategy at dcondoluci-smith@hapde.org.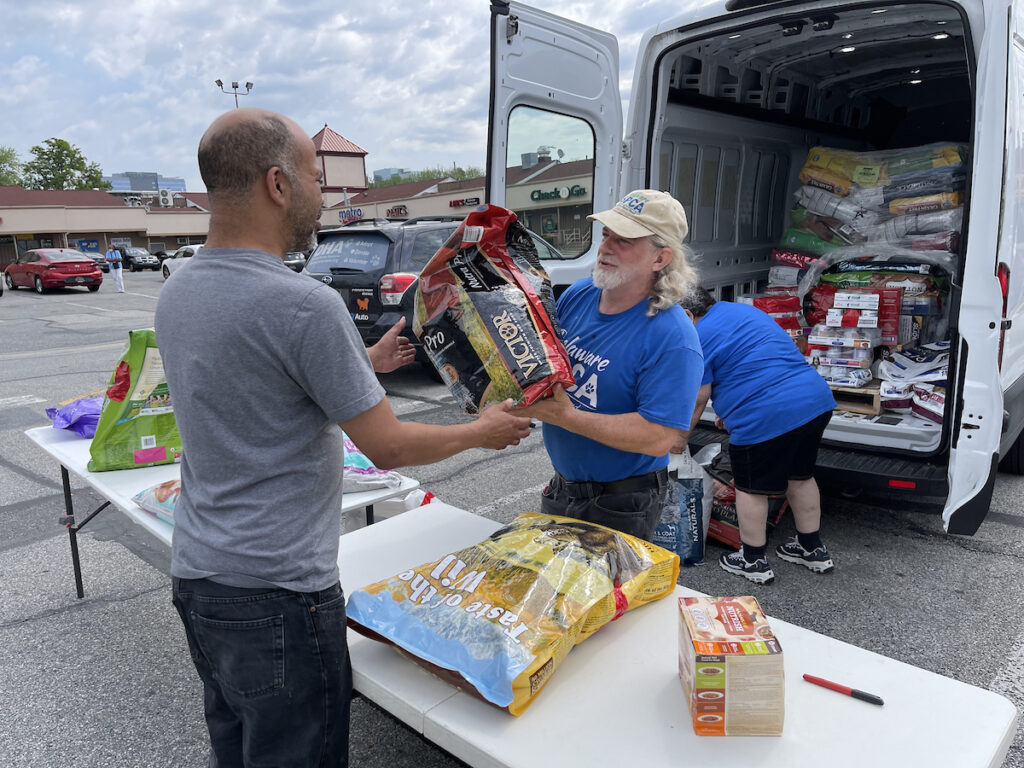 Pets for the Elderly
HAP is a proud partner of Pets for the Elderly, helping make a difference in the lives of seniors and in the lives of shelter animals. As one of the 54 shelters across 32 states—and the only one in Delaware—we are committed to providing financial support for veterinary services for senior pet owners. If you are 60+ and are unable to afford a veterinary service for your dog or cat, please reach out to our Director of Animal Welfare at canderson@hapde.org.
Reggie's Fund
Started by generous supporters, Garret and Tatiana Copeland and named after their precious HAP pup, Reggie, this fund offsets the cost of veterinary medical services for pet owners in need.
Mooshie's Fund
Started by generous supporters, Carolmarie and Matthew Brown, Mooshie's Fund was created to honor their beloved cat. The fund is strictly for feline needs only and help offsets the cost of veterinary medical services to public and free-roaming cats. Please contact canderson@hapde.org to learn more.
BlackDog Behavior and Training, LLC
BlackDog Behavior and Training, LLC provides accessible behavioral support to Delaware dog owners through private in-home training, and post-adoption support for animals adopted through Humane Animal Partners. Our team of highly skilled, certified trainers utilize only positive reinforcement techniques, aimed at supporting the strongest possible relationship between dogs and their people. BlackDog aims to promote community wellbeing by providing education around responsible dog guardianship and humane training techniques, and by acting as an extension of Humane Animal Partners through a robust effort in pet retention (preventing return/surrender by providing access to behavioral resources).
How to Help
Our Pet Retention programs provide veterinary care and pet food to hundreds of financially struggling families each month, but we can't continue serving our community without your help! Our programs run entirely on donations from the community and the need for support exceeds the resources that are available.
There are many ways you can contribute to our Pet Retention program and support local families in need:
Drop off unopened bags or cans of pet food, treats, litter, or other supplies at one of our locations
Order items from our Wishlists that will be delivered right to our door
Make a monetary donation to support our lifesaving work