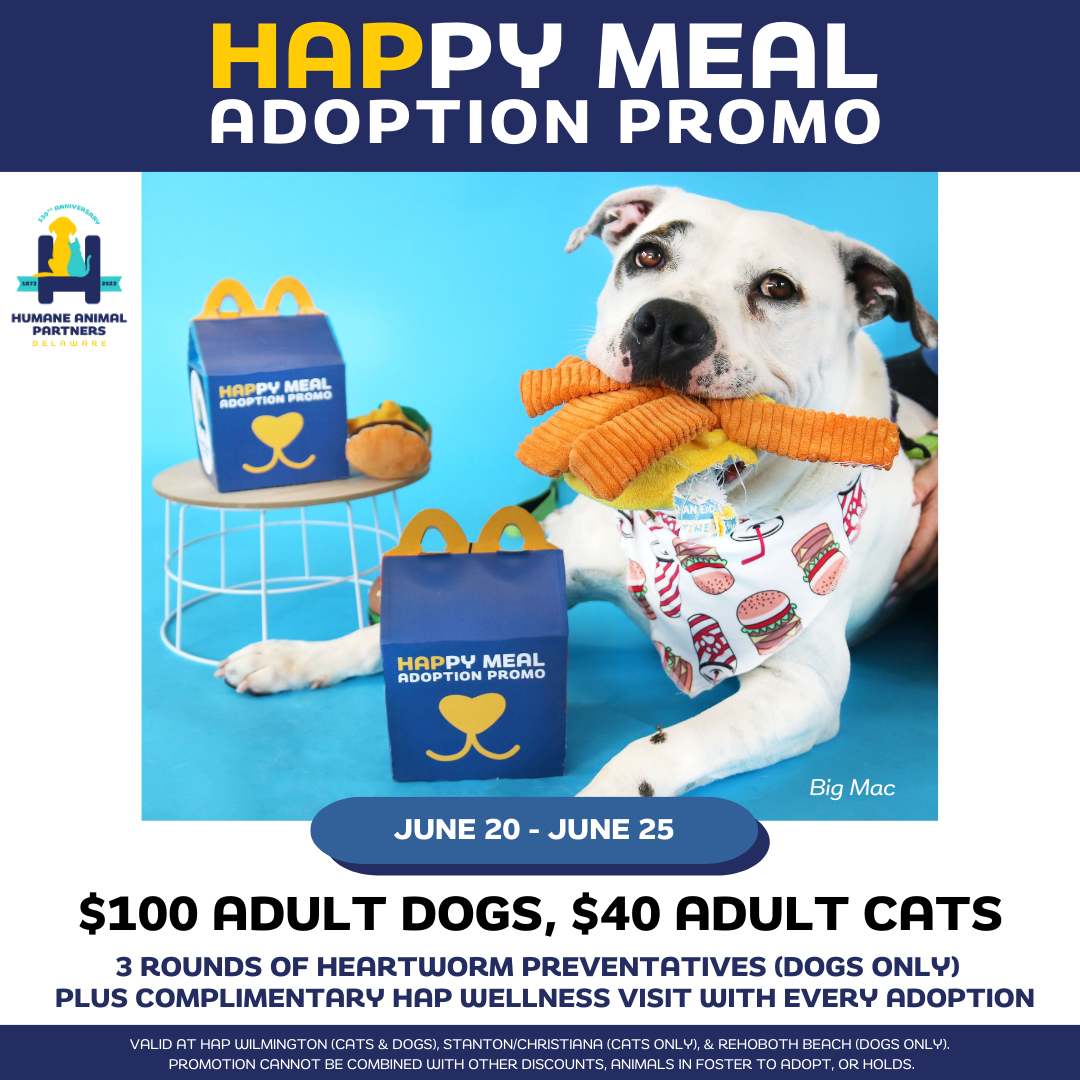 happy meal adoption promotion
HAPpy Meal Adoption promotion includes heavily discounted adoption fees, in addition to 3 rounds of heartworm preventatives (dogs only) and a complimentary HAP wellness appointment
Talk about lovin' it! Introducing our HAPpy Meal Adoption Promotion. From Tuesday, June 20 – Sunday, June 25, HAP will provide $100 adult dog and $40 adult cat adoptions fees, 3 rounds of complimentary heartworm preventatives (dogs only), and a coupon for a complimentary HAP Wellness appointment with every adoption.
This promotion is valid at HAP Wilmington for cats and dogs, Stanton/Christiana for cats only, and Rehoboth Beach for dogs only. This promotion cannot be combined with other discounts, animals in foster to adopt, or holds.
Humane Animal Partners currently has nearly 450 cats and dogs in their care waiting for adoption, with many animals currently living in foster homes. In addition to animal adoption, HAP also offers low-cost wellness services to help families keep their pets healthy. Our experienced staff of veterinary professionals provide high quality, compassionate care at low-cost prices. All wellness services are by appointment only with a licensed veterinarian at either HAP Wilmington or Stanton/Christiana. Learn more at: humaneanimalpartners.org/services/vet-care/.
Those interested in adopting can visit humaneanimalpartners.org to browse all cats and dogs currently available and learn more about the adoption process. Adopters are encouraged to complete an adoption questionnaire prior to visiting to ensure HAP's adoption coordinators are able to help make the best match possible for human and pet.